Honiton is an old market town in East Devon with some interesting history. Most of the main buildings in the centre town are Georgian – dating back to the 18th century – and the town has been the site of the annual Honiton Agricultural Show since 1890.
I visited this quaint area not too long ago to visit a customer. The customer's Slate tiled kitchen floor, as you can see from the photograph below, was looking worst for wear. The sealer had worn off and dirt and grime had penetrated the pores of the stone, this made the tiles difficult to clean and the new owners of the house were having trouble improving the appearance of the floor. They thought that the tiles were laid about eight years previously but that there had been no real cleaning or maintenance on it.
Sealers are the sacrificial-lamb for tiles and stone floors and do a great job of protecting and enhancing the floor but only last around 2-4 years on normal-traffic floors such as this. Regular maintenance can extend this and topping up of the sealer once a year can see this continue indefinitely. Tile Doctor can help with any maintenance plans and can be discussed as part of any visit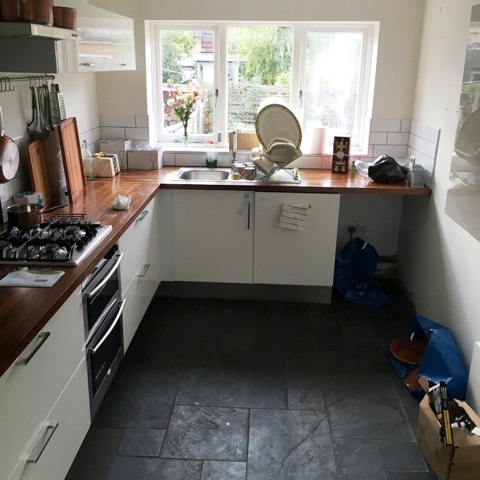 I was called in to get this Slate tiled kitchen floor back to looking its best and easy to clean.
Cleaning a Slate Tiled Kitchen Floor
In this case the sealer that had been used was past its best and was attracting dirt and holding it in, so the only option would be to completely strip the floor and re-seal. The grout had also been discoloured over the years and there are a few options to get grout looking its best again.
Grout is more prone to discolouration than the tiles but usually comes up well using Tile Doctor products Remove and Go, Pro Clean or Duo Clean. If the grout is discoloured beyond repair a grout recolour is the best way forward and a variety of colours are available.
This floor was stripped of old sealers using Tile Doctor's Remove and Go, a strong alkaline stripper and degreaser plus coarse buffing pad on a rotary scrubber to remove any traces of previous sealers plus normal kitchen oils and stains. The grout was also scrubbed for good measure using a special grout brush and the floor was thoroughly rinsed with water and a wet vac to ensure that any remaining chemicals were neutralised and removed.
This process left the floor fresh and clean – and ready to be left to dry completely overnight.
Sealing a Slate Tiled Kitchen Floor
After leaving the floor to dry overnight, I returned to the property to seal it. Before doing so, I ran a few damp tests – aware that the property is reasonably old and may not have a damp proof membrane installed. Any excess moisture can cloud the sealant and damage its performance, but thankfully this floor proved to be dry.
I proceeded then to seal the tiles using Tile Doctor Colour Grow. This is our impregnating sealer which enhances the dark natural shades in the Slate, as you can clearly see from the photo below. As an impregnating sealer, it penetrates the pores of the stone to fill them and block dirt and stains from becoming ingrained.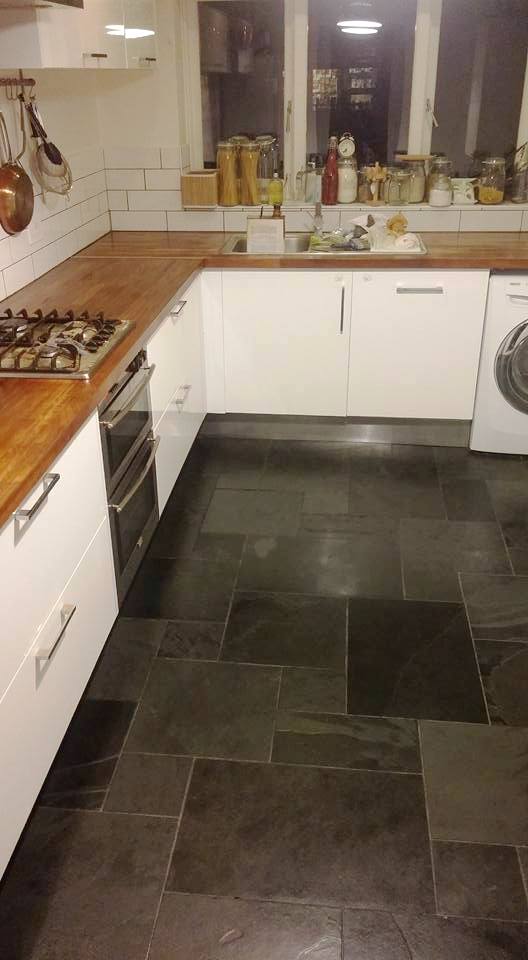 The restoration was truly transformative and as you can see from the picture above the grout came up very well so a recolour wasn't necessary.


Source: Slate Tile Cleaning and Restoration in Honiton Devon