One of the worst examples of bad tiling practice is to leave a newly installed floor unsealed and therefore unprotected. This is exactly the problem that had occurred at this property in Lymm, West Cheshire. A builder has installed a new Slate tiled floor in the kitchen of this property, but had neglected to seal it, leaning the tiles exposed to dirt, stains, and other general muck so they quickly lost their appearance. To be fair I could not fault the installation but the floor now looked terrible.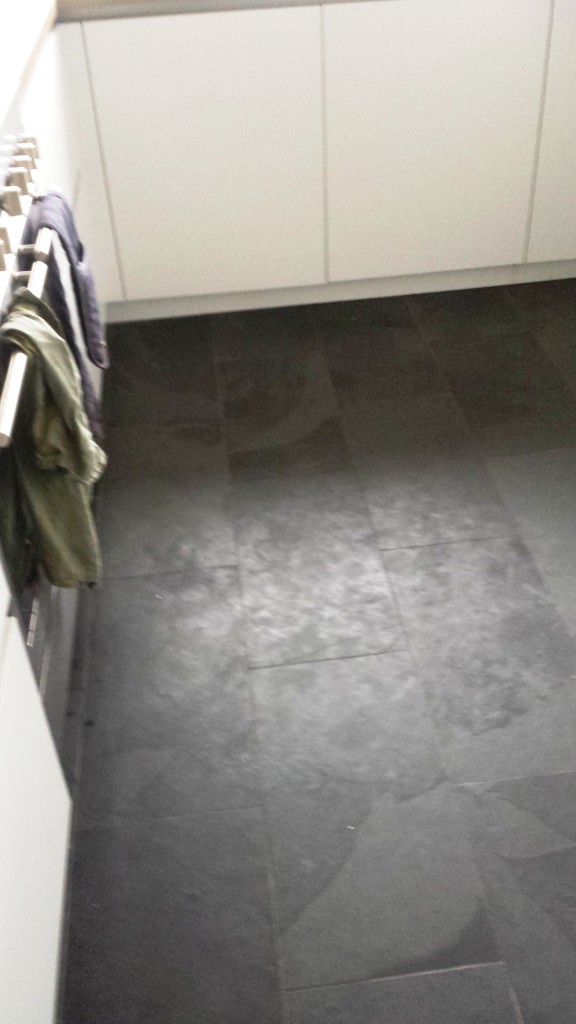 The property owner was keen to have the grubby Slate tiles refreshed and sealed, so she gave me a call. I agreed to complete the work and travelled to the property in Lymm – which incidentally means "place of running water" in Celtic – and was named after an ancient stream that ran through the village centre.
Cleaning a Grubby Slate Tiled Floor
Upon my arrival at the property I got straight to work, cleaning the tiles with our heavy duty remover/cleaner, Tile Doctor Remove and Go. This was applied to the floor, left to soak in and then scrubbed into the tile using a rotary machine fitted with a black scrubbing pad to break down the layers of muck. Normally I would use Remove and Go to strip away old coatings and sealers, but here of course there was no sealer to begin with just a lot of ingrained dirt.
I also carefully scrubbed the grout lines with a special grout brush as I went along. The grout lines are often where dirt can be come easily ingrained, and it was no different here. The floor was then rinsed off with clean water, and any resulting could residue was quickly removed using a wet vac machine. Finally, the floor was left to dry off overnight.
Sealing a Slate Tiled Floor
The next day I returned to the property and started by checking that the floor was completely dry and ready to be sealed. This involved running damp tests to check for excess moisture. When satisfied, I proceeded to seal the floor with a single coat of our impregnating, colour enhancing sealer, Tile Doctor Colour Grow followed by two coats of Tile Doctor Seal and Go Extra, which gives the tiles a fantastic sheen finish.
Refreshing Grout with a Grout Colourant
The customer requested for the grout lines to be recoloured, but first I had to leave the property overnight to allow the sealer to dry. The next morning, I coloured the grout lines with white Tile Doctor Grout Colourant which is just a question of applying the colourant with a small brush and then wiping the excess off the tiles. It's not a tough job but it can be quite fiddley and it does make a real difference to the appearance of the grout.
As you can see from the After photograph the white Grout Colourant contrasted very nicely against the naturally dark Slate. The absence of a sealer had left the floor looking very dull but now, with a fresh, robust seal, it has been completely revitalised. My customer was exceptionally pleased with her hugely improved kitchen floor.


Source: Slate Tile and Grout Cleaning and Sealing Service in Cheshire