African Slate has a striking realism to it and its natural mix of light and dark shades is difficult to compare to anything else. This example of an African Slate tiled floor was installed in the kitchen of a property in Mickleton, Gloucestershire, a town which is best known for its tradition of vegetable gardening.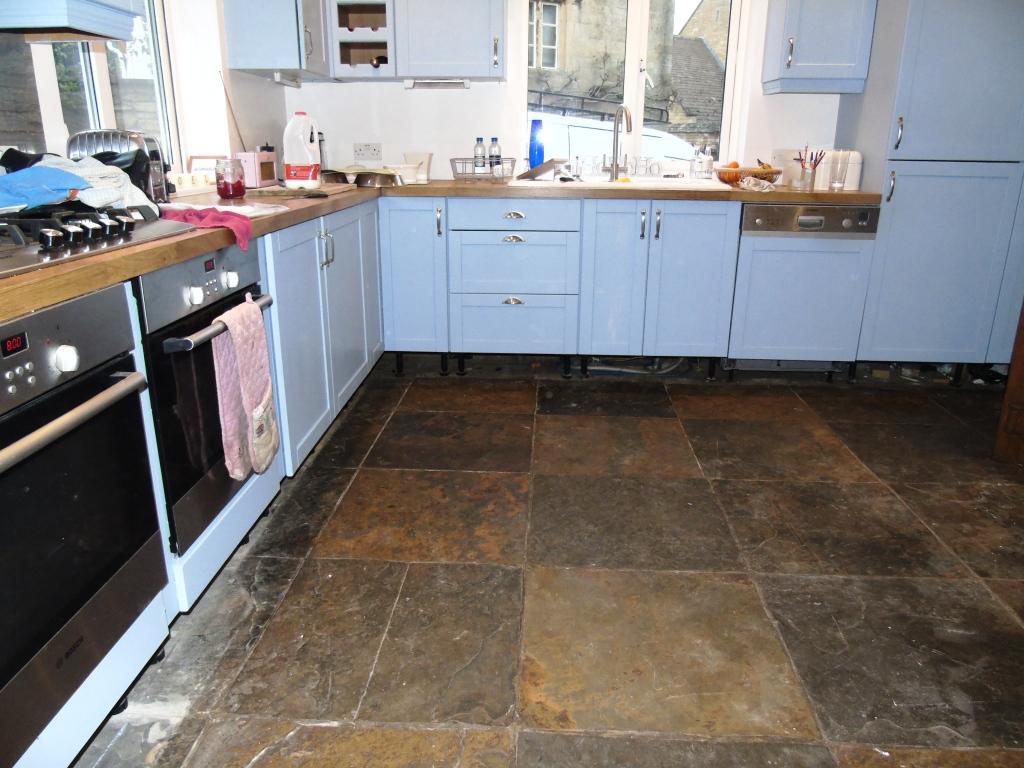 The floor was laid 15 years ago, but the owner had not maintained the sealer which would have protected the porous stone from dirt becoming ingrained. As a result, the floor was now in poor condition with the rich dark tones in the stone now dull, dirty and unremarkable. The owner had decided it was time to put it right so I was called in to make sure the tiles were restored to their original magnificence.
Cleaning an African Slate Tiled Floor
My first job was to unclip the kickboards from the base of the kitchen units, and then also cover the units themselves with plastic to guard them against potential splashing from the cleaning process.
Next, to begin the process, I applied a solution of one part Tile Doctor Pro-Clean and three parts plain water. Pro Clean is a high alkaline cleaner which is so reliable when it comes to removing dirt that we use it on almost every job we do, from Slate and Quarry to Marble and Sandstone.
Once the product had been applied, I left it to soak into the stone for approximately fifteen minutes. Then, using my buffing machine fitted with a 17 inch black scrubbing pad, I scrubbed the solution into the stone to clean the floor, releasing the ingrained dirt and removing the stains in the process. All the subsequent cleaning slurry was vacuumed up with a wet vacuum and I rinsed the floor with plain water.
I repeated this process a couple of times to ensure the most thorough clean possible. Then once satisfied with the condition of the tiles, I turned my attention to the cleaning all the dirty grout lines, again using Pro-Clean. The main difference here was that I scrubbed the product in by hand using a special grout brush as opposed to using a buffing machine. The rinsing and vacuuming process was then carried out once again.
Sealing an African Slate Tiled Floor
Once the cleaning process had been completed, I covered the floor with dust sheets and left it to dry off overnight.
I returned to the property the next day to find the the floor dry and ready to be sealed. I proceeded to seal the tiles with four coats of Tile Doctor Seal and Go, leaving roughly 30 minutes between coats.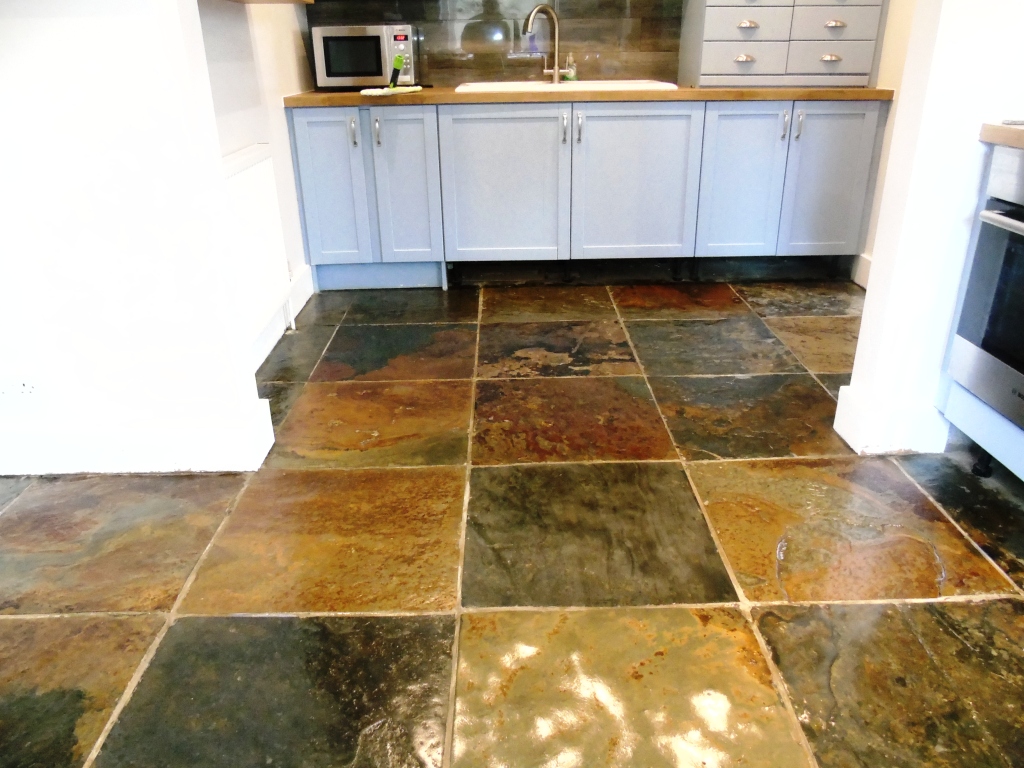 Seal and Go is a robust sealer that works really well on floors like these and results in a durable low sheen finish that really emphasises the natural characteristics of the African Slate.
The customer was absolutely delighted with the restored appearance of the floor. In fact, it reminded her of how it looked when it was first installed 15 years ago! A complete transformation in just two days.


Source: Slate Tile Cleaning and Restoration Service in Gloucester