This is a 25m2 Slate tiled floor installed in a grade 2 listed coach house in the village of Hemingford Grey on the banks of the river Ouse. It was originally called the six bells and the original coach house sign is still hanging from its original ironwork in the entrance lobby. The slate floor was laid through the kitchen and hallway in 2000 and since then it had just been mopped and extra coats of polishes/waxes had been applied leading to a build-up.
Cleaning the Slate Tiled Floor
Before starting work I protected the kitchen units and Aga cooker in plastic film to protect against splashing and mopped onto the tiles a dilution of Tile Doctor Remove and Go which is a coatings remover. Remove and Go I should mention is not only an effective cleaning product but as its name suggests is ideal for removing sealers from floors.
To get the floor completely clean you need to strip it back to bare tile and because of the layers of sealer we let the Remove and Go soak into the Slate tile for some time before being worked in using a rotary machine fitted with a black scrubbing pad. Then rather than wash the product away we blanketed the floor in a polythene sheet and left for two hours.
The polythene sheet prevents the floor from drying out and allows the chemical process of breaking down the layers of sealant to take place. After removing the sheet we scrubbed the floor again before removing the residue with our high powered internal pressure washing tool.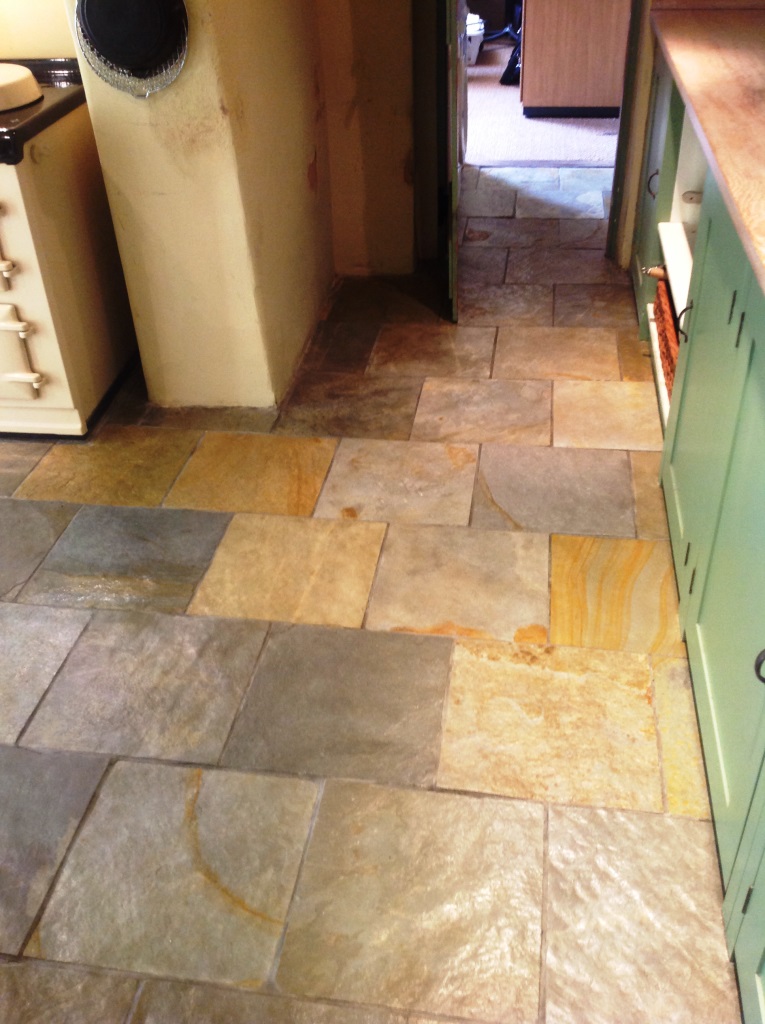 The floor was now bare and all the natural colours in the slate became far more evident. The tiles do need to be bone dry before sealing however so we left it to dry out for a day and left a number of special air blowers setup around the floor to assist with the drying.
Sealing the Slate Tiled Floor
When we returned the third day the floor was dry so we sealed it using five coats of Tile Doctor Seal and Go which is a water based sealer (so no smell) that add good stain protection as well as adding a nice subtle sheen to the tile which really enhanced the colours in the slate.
The customer was ecstatic with the result, so much so that before we left she gave us a thank you card in an envelope. On returning to our unit we opened the card and out dropped £50, well I was amazed, even though we explain all the processes to our clients and take the upmost care at their homes we really didn`t expect that level of generosity. This is how the card read:
"To Mick,
Thank you to you and Tom for your high quality in Service, Integrity and Value x Excellent craftsmanship. Much appreciated. So pleased with your work.
Kind regards. M. Evans"
It was a pleasure to work for such a nice lady and we look forward to returning in the New Year to restore some more stone and terracotta flooring for her.


Source: Tile, Stone and Grout Cleaning Service in Cambridge